Contact Us
Church Address: 710 E. Park St., Arthur, IL 61911 (map)
Telephone: (217) 543-2781
Click here for our Facebook Page!
High School Sponsor
Junior High School Sponsors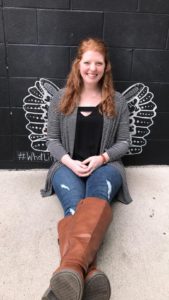 Youth Pastor
Ashley Litwiller
Ashley grew up 2 hours northwest of Arthur in Hopedale, IL where she was dedicated, baptized, and held membership at Hopedale Mennonite Church. Ashley is a 2015 graduate of Bluffton University with a degree in Youth Ministry and Recreation, with a minor in Graphic Design. Ashley had three church internships before she graduated including one as a Ministry Intern at AMC in the summer of 2014. She was installed as Minister of Youth and Worship in May of 2015. She is a licensed pastor through Illinois Mennonite Conference and Mennonite Church USA.
She also works as a substitute teacher in the local school districts. Ashley has a passion for helping those in times of struggle and in times of celebration. She has always enjoyed working with youth and being involved with church. Her hobbies are: watching and participating in sports , traveling, reading or designing with a mug of coffee or tea in hand, and spending time with her family to the Lake of the Ozarks.