AMC Youth Mission Statement
The purpose of the AMC Youth program is to create an environment that high schoolers can come to learn about God, discover His Word (The Bible) and learn from it.
In these environments, we strive to make a commitment to growing deeply in our relationship with God, create and nurture our relationships with each other and our community, and be prepared to live out our faith through our daily struggles and celebrations with those around us.
AMC Youth is important and active in the everyday life of Arthur Mennonite Church.
We meet weekly for bible study, games, service projects, fun trips and more.
We also meet for Christian education each Sunday morning at 9:30am.
2018-19 HS Curriculum
There is no doubt that life on earth is filled with waves. Waves of Excitement, Doubt, Fear, Celebration, Unknowns, etc. This year, we will be studying what it means in those different waves to confidently know that Christ gave us Hope as the anchor for our souls in each and every wave that may come our way. He helps us stay the course and gives us a firm foundation on which to stand when all Hope seems lost. We will focus on different things in our culture that tempts to sway us from God's unimaginable love and grace and hope.
"For example, there was God's promise to Abraham. Since there was no one greater to swear by, God took an oath in his own name, saying: "I will certainly bless you, and I will multiply your descendants beyond number."

Then Abraham waited patiently, and he received what God had promised.

Now when people take an oath, they call on someone greater than themselves to hold them to it. And without any question that oath is binding.

God also bound himself with an oath, so that those who received the promise could be perfectly sure that he would never change his mind.

18 So God has given both his promise and his oath. These two things are unchangeable because it is impossible for God to lie. Therefore, we who have fled to him for refuge can have great confidence as we hold to the hope that lies before us. This hope is a strong and trustworthy anchor for our souls. It leads us through the curtain into God's inner sanctuary.

Jesus has already gone in there for us. He has become our eternal High Priest in the order of Melchizedek."
Hebrews 6:13-20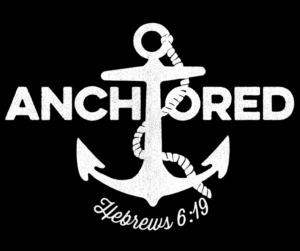 2017-18 Curriculum: Kingdom Focused
This year, we dove into the first chapter of Matthew where Jesus' genealogy is recorded for us. Each week, we looked at his ancestors and their life examples they set and then we will look into how that connects to our modern Christian life witness to those we hang out with every day.
2016-17 Curriculum: Look Like Love
We focused on preparing ourselves for MCUSA Convention in Orlando, FL in July 2017. Our theme "Look Like Love" will keep us thinking about how God molds us into the Light he wants us to be to those around us. Our theme scripture was Isaiah 64:8
"Yet you, Lord, are our Father. We are the clay, you are the potter;
we are all the work of your hand.".
There are 3 sections: Admit (…that we need Him), Commit (…to giving Him all of ourselves), & Submit (to whatever He calls us to do). We will take a look at how our actions affect others and in every lesson look at how being in a right relationship with God helps all of our earthly relationships to be in the right.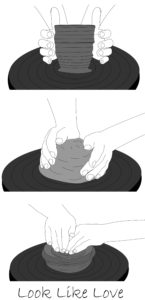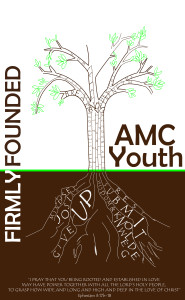 2015-16 Curriculum: Firmly Founded
We focused in on Ephesians 3:14-21:
"For this reason I kneel before the Father, from whom every family in heaven and on earth derives its name. I pray that our of his glorious riches he may strength you with power through His Spirit in your inner being, so that Christ may dwell in your hearts through faith. And I pray that you, being rooted and established in love, may have power , to gether with all the Lord's holy people, to grasp how wide and long and high and deep is the love of Christ, and to know this love that surpasses knowledge – that you may be filled to the measure of all the fullness of God. Now to him who is able to do immeasurably more than all we ask or imagine, according to his power that is at work within us, to him be the glory in the church and in Christ Jesus throughout all generations, forever and ever! Amen."
We have 4 different sections/focuses:
– Roots- reminding us that we belong to Him and He is our foundation.
– Trunk – We surround ourselves with those who build us up and support us.
– Branches – We are his vessels with which he distributes His Love to others.
– Fruit – Are we producing God's fruit or are we trying to produce our own version?